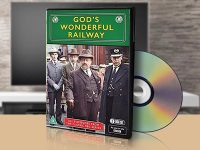 This classic 8-part BBC series, transmitted in 1980, is available on DVD.
It follows three generations of the Grant family who live and work on the Severn Valley branch of the Great Western Railway.
Split into three stories: The Permanent Way tells of the construction of the line in the 1860s, Clear Ahead shows the line in its Edwardian heyday in 1906 and Fire on the Line, set in 1939 shows how the outbreak of the Second World War affected both the family and the railway.
The series was filmed on location on the heritage Severn Valley Railway.
Cast included: Gordon Kaye, June Brown, Gerard Kelly, Richard Pearson, Terry Molloy
Executive Producer: Anna Home
Produced by Paul Stone
Directed by Fiona Cumming, John Prowse and Paul Stone
Edited by Christopher Rowlands
Extras: On Location, Blue Peter
Dazzler Media Ltd.
Available from www.amazon.co.uk and www.hmv.co.uk.
Copies also available frominfo@avrilrowlands.co.uk me.  Contact : info@avrilrowlands.co.uk
Watch a clip from each of the stories