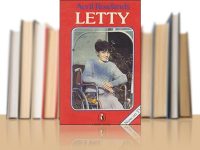 'I don't know exactly why it is, but I always seem to get involved in schemes that don't work out.  Well, to be truthful, I don't just get involved – I generally dream them up.'
Meadowbank Children's Home has all kinds of kids in it:  quiet, noisy, shy and extrovert, but none has been there as long as Letty Boot.  Born disabled and confined to a wheelchair, Letty is irrepressible – a source of delight and dismay to everyone she knows.  It was her idea to start a detective agency to solve the spate of thefts that's been going on in the home.  But in true Letty fashion, it becomes a major adventure.
The six-part television series was transmitted by ITV in 1984.
Books available secondhand on www.amazon.co.uk