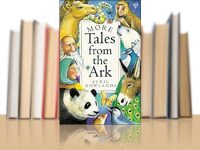 Mr Noah's eyes misted over and two fat tears fell on the long list he held in his hand. He was too old for change and it was all very frightening.
'I can't do it,' he thought as he caught sight of the chimpanzees scratching themselves for fleas. 'Should two fleas be taken on the ark?' he wondered. God had not said anything about fleas.
Fleas are the least of Mr Noah's problems when God puts him in charge of the ark. It's a tight squeeze for the giraffe, the polar bear feels lonely and the parrot is up to mischief. Then Mr Noah realises that the animals include…two woodworm!
This often hilarious sequel to the immensely popular Tales from the Ark tells what might have happened on board Noah's ark..
This highly successful book has, together with its two companion books, Tales from the Ark and Rainbow's End, been re-published in an omnibus edition, All the Tales from the Ark, available from bookshops and from www.lionhudson.co.uk