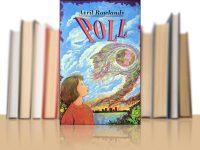 Katie doesn't want to look after her brother, Ben.  She doesn't want her mother to go away.  And she certainly doesn't want to think about anyone else's problems!
So when Ben vanishes, along with the entire supermarket, Katie finds herself in the middle of a strange adventure.  Walking through a fantasy land of vanishing rainforests, dying rivers and global warming in a real greenhouse – is it fantasy or could it be real?  And just who and what is Poll?
This is a fast-moving novel, which deals with environmental issues in a lively and original way.
Available as a Kindle book on www.amazon.co.uk
Signed hardback copies available from myself